Central-Bank Bashing Has Gold Only Asset Safe From Meddling
Baring Asset Management's Christopher Mahon has one major conviction about 2017: it will be the year in which central-bank bashing by politicians becomes the new normal, so he's seeking shelter in gold.
"This year is the turning point," Mahon said in an interview on Monday. "For seven years or so, central banks have largely escaped critique even though one could argue that their policies have been pretty inadequate in many senses. It's very plausible now that politicians stand up and throw stones at central bankers."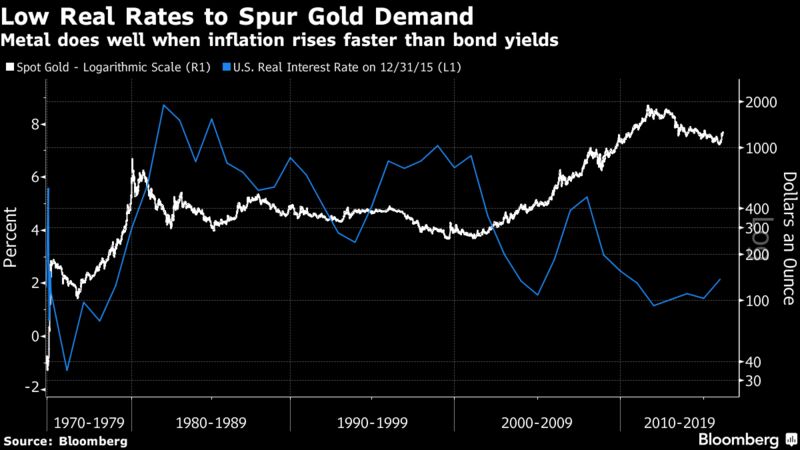 Mahon is betting that gold will rise if political intervention causes central banks to miss inflation and growth targets. In the past few months he's built up a 4 percent allocation to bullion in his 1.7 billion pound ($2.1 billion) Dynamic Asset Allocation Fund, which outperformed 80 percent of peers last year. Jim Rickards, author of New York Times best seller Currency Wars: The Making of the Next Global Crisis, is even more bullish: he recommends putting 10 percent into gold.
Read more: a QuickTake on Fed policy.
Meddling in monetary policy can create problems because politicians and policy makers don't generally share the same objectives. While central bankers typically target inflation in order to keep growth ticking over without overheating, elected officials tend to get more votes in times of rapid economic expansion.
"Donald Trump has the opportunity to stack the Fed's board with political appointments," Rickards said by phone from Greenwich, Connecticut. "I've never known a politician who's meddled in central bank policy to cause deflation."
For those who lose faith in central banks, gold may be the last holdout. It retains its appeal as an asset that once underwrote the monetary system and it can't be created at will like currencies and bonds, said Matthew Turner, a Macquarie Group Ltd. economist.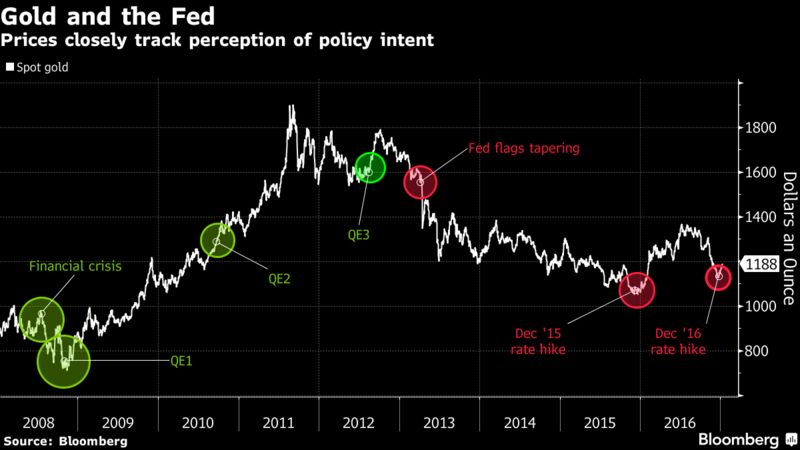 "Gold used to be the center of the global financial system, for that reason it has a reputation as a currency — but as a currency that's not issued by governments and not controlled by governments," Turner said.
The investment community is split on how Trump will impact gold prices. Since his election, money managers have been pulling money out of SPDR Gold Shares, the world's largest gold-backed exchange-traded fund, as they seek bigger returns in stocks. At the same time, retail investors have been flooding into the iShares Gold Trust. Gold has risen 6.7 percent since hitting a 10-month low on Dec. 15 and was at $1,197.67 an ounce Friday.
Baring's Mahon, who bought his exposure through ETFs, says that while 2017 is a watershed, his conviction on the politicization of central banks is one that will play out over several years, making gold a safe bet for the long term.
"The critique of central banks won't be quick," Mahon said. "It will be one of those things that takes many years. We started with this very asymmetric central bank response in 1985 or so, and it's taken years for people to see it as a problem."
'GoldSafe provides regular commentary and analysis of gold, currencies and the global economy.  All articles published here are to inform, not influence.  Only you can decide the best place for your money, and any decision you make or don't may put your money at risk.  GoldSafe's fundamental strategy requires the ownership of physical gold and does not recommend gold derivatives, ETFs or any paper substitute.'