Has Biggest Rally Since Brexit As Trump Wins White House Race
The dollar plunged with Republican Donald Trump poised to win the U.S. presidential election, shocking foreign-exchange traders who had all but priced in a Clinton victory.
A Trump win would be the second major jolt to foreign-exchange markets in less than five months after Britons voted in June to exit the European Union. The greenback fell as much as 3.8 percent against the yen, the biggest intraday decline since the Brexit referendum, 2.4 percent against the euro and 2.3 percent against the Swiss franc. Mexico's peso plunged to a record.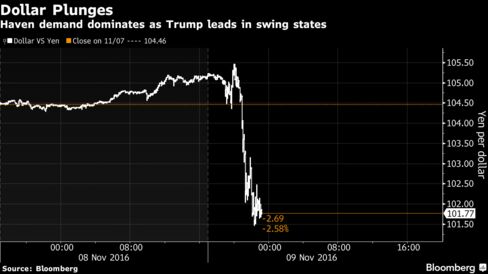 A victory for Trump, 70, would spur a sea change in U.S. policies that directly impact the greenback. The real estate magnate has promised to tear up U.S. trade agreements, called China the "grand master" of currency devaluation and argued that a strong dollar damages American competitiveness. He's also accused Fed Chair Janet Yellen of playing politics, saying she's kept rates too low during Obama's tenure, and suggested that he will nominate someone else to lead the central bank once her term expires in 2018.
"It's unexpected, and financial markets don't like unexpected events," said Steven Englander, global head of Group-of-10 currency strategy in New York at Citigroup Inc., the world's biggest foreign-exchange trader. "We're really, for a while, going to be in uncharted territory because we don't know how much additional volatility asset markets and economic outcomes are going to attain because of this event.»
The dollar fell to 102.26 yen and sank to $1.1205 per euro as of 1:53 a.m. in New York. Overnight implied volatility on the dollar-yen exchange rate climbed to the highest since November 2008.
Tuesday's price moves are in line with what strategists predicted in the case of a Trump victory in a Bloomberg survey of the world's top 10 foreign-exchange forecasters earlier this month. In that poll, most saw the dollar falling to about 100.28 yen should he win.
"It's a more far-reaching and dramatic shock than anything I've seen in my career," said Karl Schamotta, director of foreign-exchange research and strategy at Cambridge Global Payments in Toronto. "It's certainly bigger than Brexit and has far wider consequences for the global economy."
Markets are now reassessing the likelihood of a Federal Reserve interest-rate increase next month, once a near certainty, as volatility intensifies.
The market-implied chance of a December rate hike plunged to as low as 47 percent, based on U.S. overnight indexed swaps that trade 24 hours a day, compared with 82 percent at 5 p.m. The OIS-derived probability tends to be a few percentage points lower compared to calculations based on fed funds futures.
The U.S. currency has risen since mid-August as signs of faster economic growth and accelerating inflation fueled bets for Fed hikes. The gains follow a two-year, 20 percent rally that abruptly came to a halt this year as policy makers repeatedly scaled back the pace of rate increases amid inconsistent data.
Tighter monetary policy in the U.S. bolsters the allure of American assets — and in turn the greenback — relative to Europe and Japan, where central banks continue to undertake unprecedented stimulus to boost flagging growth and inflation.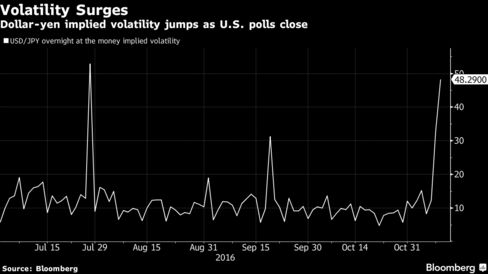 The Mexican peso plunged as much as 12 percent against the dollar. The move was expected by market analysts who saw the currency as a barometer for the election, rallying when Clinton advanced in the polls and falling when Trump gained ground.
Trump's rhetoric has weighed on the peso in recent months as traders saw the country's economy as particularly vulnerable to proposals such as building a wall on America's southern border, seizing Mexican workers' remittances and renegotiating the North American Free Trade Agreement.
Canada's dollar tumbled. The nation's two-way trade in goods and services with the U.S. has surged since the accord between Canada, the U.S. and Mexico came into force in 1994. The U.S. is Canada's largest foreign market, buying about C$400 billion, or about 73 percent, of the country's exports last year, data compiled by Bloomberg show.
"The Bank of Canada is monitoring the U.S. election as an event risk considering the uncertainty it would bring to business investment in Canada and in the U.S.," Bipan Rai, a senior foreign-exchange and macro strategist at Canadian Imperial Bank of Commerce in Toronto, said before the election. "We can't rule out the potential for further action from the BOC in the next couple of months," he said, referring to a potential rate cut.
South Korea's won and South Africa's rand also tumbled.
Trump has locked up key battleground states Florida, Ohio, North Carolina and Pennsylvania, and is set to pull off a huge electoral upset on his way to becoming the 45th president of the U.S.
"Trump promised it would be bigger than Brexit and we tend to agree," said Sean Callow, senior strategist at Westpac Banking Corp. in Sydney. "Not only has Trump promised radical change to trade policy and international relations, the GOP wins in House and Senate mean there are few constraints on his actions by historical standards."
'GoldSafe provides regular commentary and analysis of gold, currencies and the global economy.  All articles published here are to inform, not influence.  Only you can decide the best place for your money, and any decision you make or don't may put your money at risk.  GoldSafe's fundamental strategy requires the ownership of physical gold and does not recommend gold derivatives, ETFs or any paper substitute.'