Russian Wealth Fund Has This Year's Biggest Drop as Buffers Wilt
One of Russia's two sovereign wealth funds had its biggest drop of the year in August, underlining the urgency of bringing the deficit under control as the budget gap remains on track for the widest since 2010.
The Reserve Fund, which peaked at $142.6 billion in 2008, fell to $32.2 billion last month, a decrease of 16 percent from July, as the government converted foreign currency into rubles to cover the deficit, the Finance Ministry said on Tuesday. The government's other stockpile, the National Wellbeing fund, was at $72.7 billion, compared with $72.2 billion a month earlier.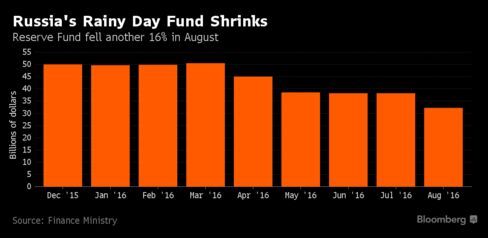 The funds are "the symbol of stability," said Vladimir Miklashevsky, senior strategist at Danske Bank A/S in Helsinki. "Yes, they'll be drawn down, but not to the bottom of the barrel. The deficit will be financed through other sources, or by weakening the ruble in an extreme case."
The withering buffers are a challenge for President Vladimir Putin, who put on a brave face last week by saying in an interview that Russia has enough cash in the government's reserves to finance its expenses without recourse to foreign capital markets. Russia sold its first Eurobond since 2013 in May.
Under the Finance Ministry's proposals for drafting a 2017-2019 budget program, the government will fully deplete its Reserve Fund next year, while another 783 billion rubles ($12.1 billion) will be taken from the National Wellbeing Fund, originally created to cover long-term outlays for social spending such as supporting the pension system.
Budget Woes
As Russia muddles through its longest recession in two decades, it racked up a budget deficit of 3.3 percent of economic output as of end-July. The Finance Ministry said 390 billion rubles from the Reserve Fund were used in August to cover the deficit. That's on top of the 780 billion rubles taken in April-May. The government plans to spend 2.1 trillion rubles from its Reserve Fund this year.
Russia is preparing its budget for the next three years after the Finance Ministry proposed the fiscal gap at 3.2 percent of gross domestic product in 2017, from about 3 percent this year. It then plans to reduce it by one percentage point each year to balance the budget by 2020.